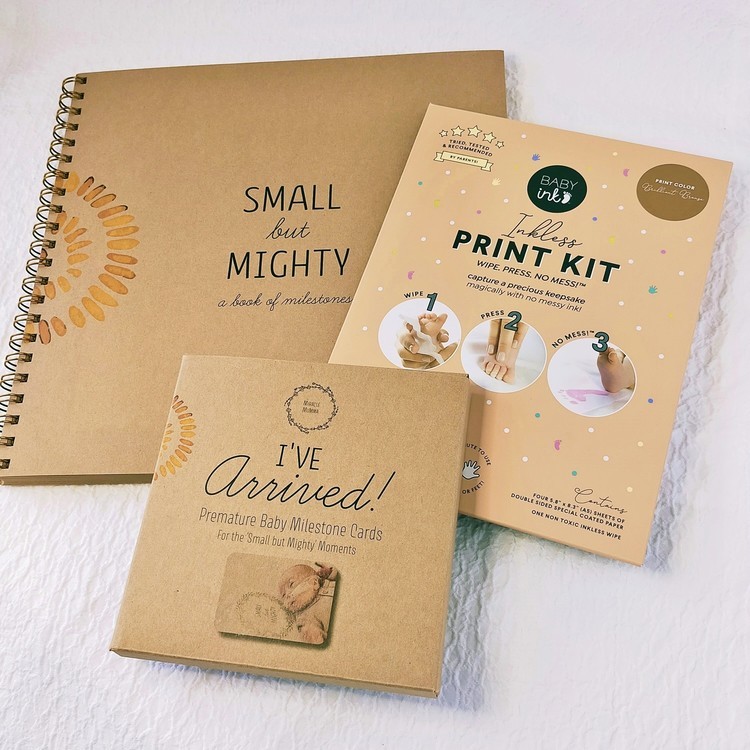 Includes a donation to The Little Miracles Trust!
Capture all those precious moments - with everything you need to record your little baby's journey from birth to home, this will be treasured for years to come! This set is perfect for all families with premmie baby in the NICU or SCBU.
What's in the set:
Small But Mighty, A Book of Milestones. The scrapbook features minimal prompts and plenty of room for creativity, a beautiful way to record baby's milestone cards, photographs and story.
Miracle Mumma Milestone Cards for premature babies. Simply change the selection in the box above to your favourite set!
BABYink­® Hand & Footprint Kit. These ink-less kits are easy to use, certified non-toxic and safe to use from birth.
If you're sending this as a gift it will be enclosed in a white box and tied with a paper string bow. Any other items puchased at the same time will be included in the wrapping.
For every set sold we'll make a $2 Donation to The Little Miracles Trust!
Gift Tag:
A "You've got this!" gift tag is included with the set. To add a short message on the reverse side simply add it into the box above - our tags are a mini size and can fit approx 20 words. For something extra special we also have our unique gift cards available to purchase here.
Colour Selection:
We try to have all colours in stock but in the event that a gender-specific colour is unavailable it will be replaced with a neutral item.