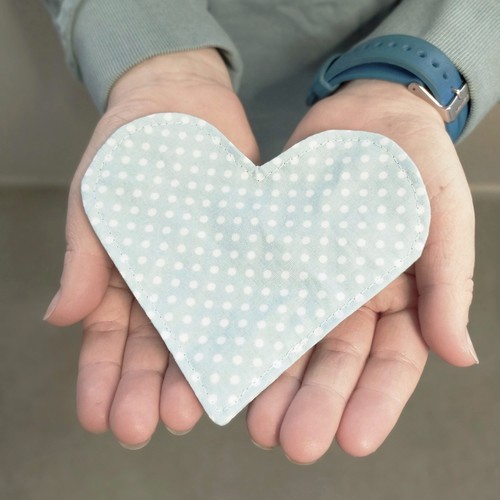 When your baby is in NICU, the simple things like holding and cuddling your baby aren't always possible. Parents miss out on crucial bonding and can be separated from their little one for long periods of time, and for babies, the unnatural hospital environment and medical support is stressful.
A baby's sense of smell develops in the womb, and this is why NICU Cuddle Hearts (aka Scent Hearts or Develoment Hearts) were designed. A heart is kept by both the baby and the parents and swapped every couple of days to 're-charge' those familiar smells. Cuddle Hearts provide a connection and comfort - and baby's scent can even help new mums with lactation while they express!
This free pattern has been created for anyone who wants to donate Cuddle Hearts to a neonatal unit, including charity groups and organisations. Simply download the PDF (link below) and print at 100%. The pattern is quite easy to sew with a basic straight stitch, it's even manageble for children with a bit of assistance.

In New Zealand we recommend donating the hearts to either The Little Miracles Trust or Care For Families, both of these use the standard 10cm (approx) hearts. They distribute Cuddle Hearts directly to the NICUs and include them in care parcels so your hearts are definitely going to the right place!
If you use this pattern we'd love to see your completed Cuddle Hearts, you can tag us @smallbabiesnz on Facebook and Instagram! Happy sewing ♡
Delivery and Drop Off Locations (please get in touch with us if you have any questions about sewing or donating Cuddle Hearts)
The Little Miracles Trust:
Auckland – NICU Auckland City Hospital, Park Road, Grafton, Auckland 1023
Hamilton – 27 Mansel Avenue, Hillcrest, Hamilton 3216
Wellington – 9 Staithes Drive North, Whitby, Porirua 5024
Christchurch – 21 Raranga Street, Marshland, Christchurch 8083
Care For Families Trust:
c/- Brake & Auto Service, 1/23 Bute Road, Browns Bay, Auckland 0630
© Small Babies Ltd. Please note that this pattern is for donation purposes only. The pattern, associated instructions, and items made using this pattern are not for resale or commercial use.
Download the Free Cuddle Hearts Pattern Here!
Posted: Thursday 18 February 2021
Comments
★

★

★

★

★

Can I donate fabric to your small babies heart project?

Posted:

2023-10-27 17:55

by

Theresa
---