As an approved essential business, we're here through all Covid alert levels so you can still get what you need for your baby - orders are shipped daily.  If you're in NICU our thoughts are with you, please reach out if we can help in any way x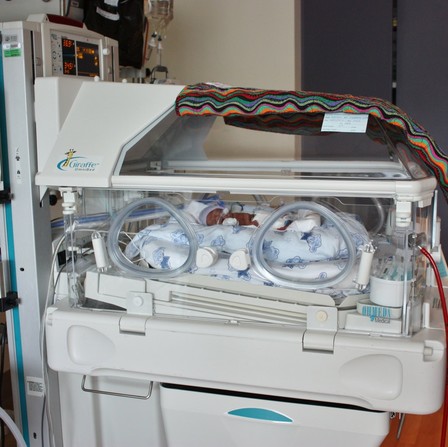 To the parents spending their holidays in the NICU,
I know that the NICU or Special Care unit was probably not where you had expected or planned to be this Christmas.
I know you'd give anything not to be there, how much you'd love to pick up your baby and run out the door.
I know that on top of the emotional rollercoaster you're already going through, this time of year adds even more stress and the disappointment of not having your family together for the holidays.
Traditionally the Christmas break is a chance for the whole family to catch up, but when your baby is in hospital what are you supposed to do? Choose what feels right - if you're up to it of course take some time to join in with your family's celebrations, but if not nobody should be judging you for skipping out on this Christmas!
In New Zealand nearly 400 babies each year will spend Christmas in a NICU or SCBU, so our units try to make the day extra special. The Neonatal Trust runs a 'new parent Secret Santa' project - care packs put together and delivered by volunteers with the purpose of bringing comfort and hope to all NICU families.
Here's 10 ideas for finding some balance between the NICU and the 'normal' holiday celebrations:
1. Is decorating is your thing? If so, go for it! Obviously don't go sticking 3 metres of tinsel to the inside of the incubator, but bringing in a few personal decorations like Christmas bunting or a mini stocking for your baby is a good idea! For older babies black and white images for the side of their cot gives them something interesting to focus on. Think of shapes like stars or even a simple Christmas tree or reindeer.
2. Take photos. It may not be the usual Christmas photo with Santa or at home, but get out your camera and capture it anyway. If baby can wear clothes then perhaps choose a tiny outfit or cute hat in festive colours, or add "My First Christmas" milestone card - you can print a free one here. Remember to ask your nurse to take a family photo of you all together.
3. Feeling lonely or isolated? If you don't want to be far from your baby, perhaps invite a couple of family members or close friends to the hospital for a visit. Keep in mind most units limit visitors to just one or two at baby's bedside. Otherwise meeting at a nearby café gives you a short break (and the chance to have some decent food!). There's also prem and NICU support groups on facebook which are awesome for discussing all things NICU and baby related.
4. Create memories to look back on. Along with your photos, baby's hand or footprints are incredible to have and your nurses are usually well practiced at getting a clear print.
5. Get writing! For those of you that haven't dicovered this already, it's probably the best way to pass the time by your baby's bedside. If you normally send Christmas cards then this year they can double as a "thank you" to friends and family that have supported you. Most NICU parents have a diary or journal, make a note of how your baby is doing over the holidays, their achievements and how much they are growing.
6. Bring in a favourite Christmas book to read to your baby. It could become a new family tradition (our kids know "The Night before Christmas" by heart), plus studies show that reading and singing to your baby is great for their development.
7. If you have older children try to include them as much as you can. Perhaps they can choose a Christmas story, shop for a present or draw a picture to decorate the baby's bed space, and in return receive a gift from their new sibling.
8. Make a wishlist. This can cover all sorts of things, get those thoughts out of your head and put it down on paper. Is there anything you need, practical gifts your friends and family can organise or pick up for you? Include your hopes for your baby, have you had a kangaroo cuddle yet, given baby a bath, is there something you'd like to understand better or are you worried about a procedure? Share these thoughts with your baby's nurse.
9. Take time for yourself. Actually this one applies at all times. It's easy to get run down from the stress and lack of sleep but you can't pour from an empty cup. Have an afternoon nap, get out for a walk, whatever you need to keep yourself healthy.
10. Remember you are strong and you will make it through this. There's a whole tribe of NICU parents that have been there and get how you feel, reach out if you need help or a chat to someone who understands. Above all, no matter how you spend your Christmas, your baby is the greatest gift.
Posted: Saturday 1 December 2018