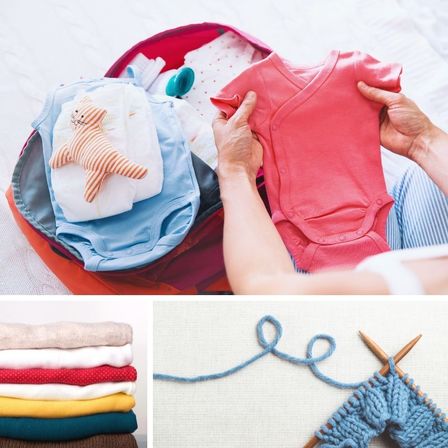 Most of our hospital units and charities rely on donations of premature clothing and baby gear like blankets and wraps. When your little baby has outgrown their tiniest clothing please consider passing some of it on for another premmie to wear.
Everyone loves to receive handmade items - we all understand how much time and effort goes into these special donations! If you're able to knit or sew, please know that whatever you create will be well used and appreciated by the hospital and a newborn baby's family. There are heaps of organisations doing incredible things to support NICU families so read on to find out how you can get involved!
Can you Knit, Crochet or Sew?
Wool is always preferred for premature babies because it's warm and breathable, although some hospitals will accept items made from cotton, acrylic or blends as long as they are machine washable. To be certain please check with your chosen unit or organisation prior to donating.

Create ribbed beanies, hats, singlets/vests, jackets and booties. Often the 'larger' newborn items are needed more than the tiniest prem knitting, so perhaps consider making a range of sizes. Please note that crochet hats may not be accepted by some hospitals as the crochet stitch doesn't stretch as well as knitting.

Blankets for the hospital cots - more the size of a bassinette than a big wooden cot! These can be either knitted or sewn and measure 60x65cm square. For sewers they are quick and easy to make from a piece of Merino knit fabric, finish around the edges with a simple hem or strip of binding.

Soft cotton sheets are always used in the incubators and cots, usually cotton flannelette and measuring approx 70x110cm. Please contact your local unit if you are able to sew up some new ones.

Muslin wraps, made to approx 60x90cm with an overlocked or hemmed edge.

Incubator covers (also called Isolette covers) protect baby from the lights and stimulation of their surroundings. These should be made from 100% cotton, measure 100x120cm, and be either double layered or quilted to prevent them from sliding off. Any batting needs to be machine washable so it can go through the hospital wash. The top side can be any colour or pattern, but for the underneath a plain, dark colour is best as it's more soothing for baby.
Where you can send your donations to, and some helpful groups to join if you're the creative type:
Your local hospital will have a neonatal intensive care (NICU or NNU) or special care unit (SCBU or SCN) where you can drop off items directly at the reception desk. Hospitals mainly require Prem and Newborn sized clothing, and bedding such as muslin wraps and small cot blankets.
The Little Miracles Trust distributes clothing and blankets between the hospital units based on their specific needs. All knitted clothing needs to be 100% wool, and you can post your items directly to:
Auckland - NICU, Auckland City Hospital, Park Road, Auckland 1023
Hamilton - 27 Mansel Avenue, Hamilton 3216
Wellington - 9 Staithes Drive North, Whitby, Porirua 5024
Christchurch - 21 Raranga Street, Marshland, Christchurch 8083
Premmie Knitting Club run an annual knitting appeal in both NZ and Australia, as well as fundraising for local initiatives. For the 2021 year they are supporting both the Middlemore Foundation and Well Foundation to purchase equipment for Kidz First NICU and North Shore SCBU. Have a look at the Premmie Knitting Club website for knitting patterns and more! You can either drop finished items to your local unit or send your knitting to:
Drop Off Address: ATTN Courtney Bennett, Benefitz, 2 Parkway Drive, Rosedale, Auckland 0632
Mailing Address: Courtney Bennett/Premmie Knitting Club, P.O. Box 33-1630, Takapuna, Auckland 0622
Care For Families Trust make free parcels for families with premature and newborn babies across New Zealand. They accept good condition or new Premature and Newborn size baby clothing, blankets, swaddles or wraps and small infant toys, as well as treats and personal care items for the baby's parents to use during their hospital stay. Donations can be sent to:
Care For Families, Unit 1/23 Bute Road, Browns Bay, Auckland 0632
Beanies for Babies co-ordinate knitters and crocheters, distributing the knitted clothing to many hospitals and charities throughout New Zealand. Prem and Newborn clothing should be in 100% Wool - join their facebook group for advice and links to free patterns! To donate your knitted items please send them to:
Hylda Chandler, 5 McEwan Place, Fitzroy, Hamilton 3206
Angel Gowns NZ arranges donations of wedding gowns to be sewn into bereavement (angel) gowns and soft pouches for the tiniest babies. Hospitals keep a supply of gowns on hand for those babies who are taken too soon.
Thank you so much for your donation and for helping to keep New Zealands' tiniest babies warm and cosy!
Do you have an organisation that you'd like to be included here? Please email your details to stephanie@smallbabies.co.nz
Posted: Monday 27 May 2019